MTB in Val d'Ega/Eggental: a great tradition. The region is a pioneer in South Tyrol. Trails for leisurely bikers and downhill pros, panoramic tours over mountain passes, along shady forest paths, or across boundless Alpine pastures – two wheels will take you almost everywhere here. Some mountain lifts, such as the one right by Alpenrose, transport both you and your bike. Once at the top, you can still break a sweat! That's because of the mild climate from April to October.
Our professional bike guides know Val d'Ega/Eggental inside and out. Of course, they will be happy to recommend suitable tours for you and even help you plan your outing! In addition, our tour maps contain many an insider tip.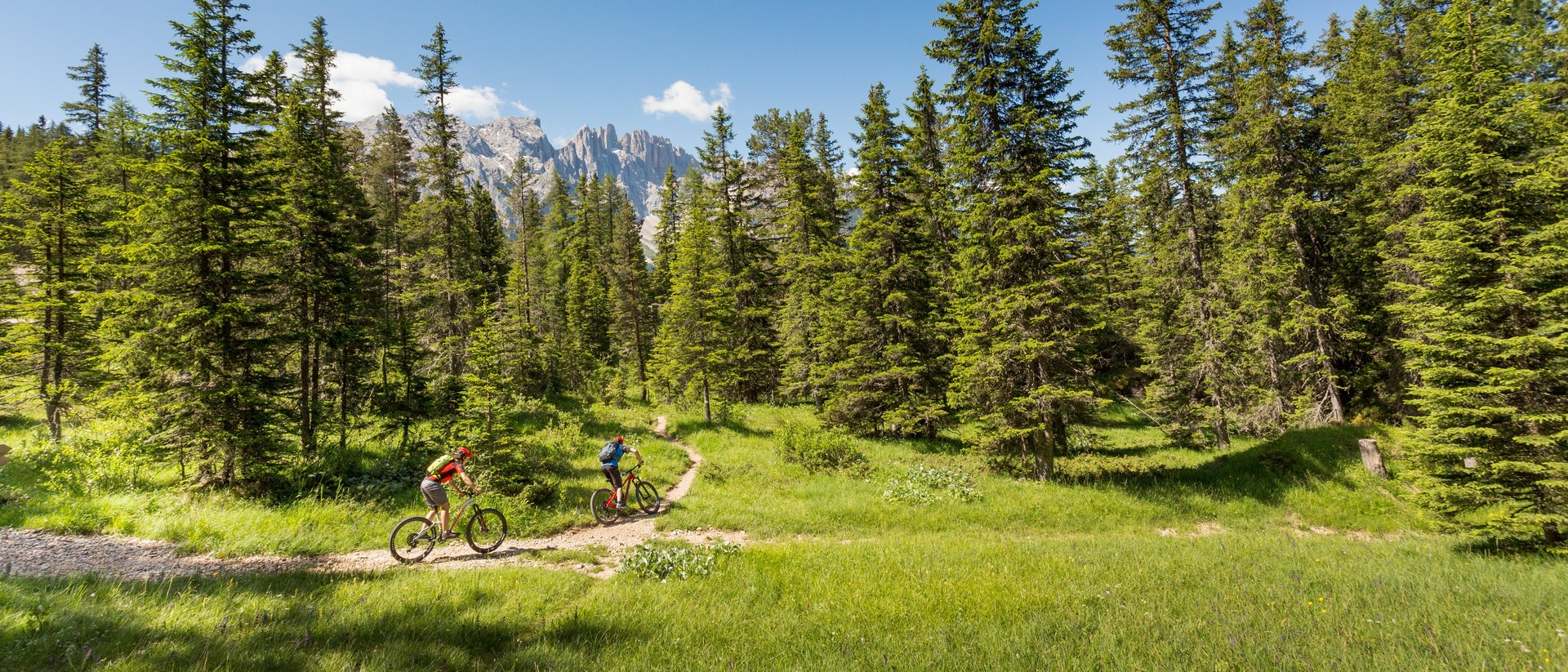 Mountain bike tour around Latemar directly from the hotel
difficult
45km
5:45 hours
2,094m cumulative altitude difference
From Obergummer past Tscheiner hut to Lake Carezza/Karersee
medium
35km
4:30 hours
1,272m cumulative altitude difference
medium
4.5km
15 minutes
562m altitude difference downhill only
Mountain bike tour around Catinaccio/Rosengarten
medium
24km
3:00 hours
997m cumulative altitude difference
Bike Rent Carezza inside the hotel
Rent high-quality mountain bikes, e-bikes, tour bikes, and trekking bikes at a fee. For pros and beginners. With different frame sizes. For adults and children. To get your bike ready for the mountains, we also have special mountain equipment in our range.
To the bike rental!
Place your bike in our lockable bike garage to keep it safe. And if your bike ever breaks down: Our workshop has got you covered.
You can charge your e-bike safely at our charging station in the bike garage.
Got dirty on your tour? Visit the washing station in the bike garage to get your bike sparkling clean again. Your clothes don't look too good, either? Put them in the laundry bag that you'll find in our room. If you bring it to us by 6 p.m., you'll get your clean biking apparel back by the next morning. And if you just need to dry your clothes, use the hangers in the bike room.
GPS devices with the GPS data of our region's entire tour network for mountain bikers or road cyclists can be rented from the reception (€20.00 per day). On request and for a fee, we will provide you with energy-boosting sports meals for on the go.
Guided mountain bike tours
Not in the mood for solo tours? Just book one of our guided mountain bike tours! Our bike guides will accompany you on the most beautiful day or multi-day tours for beginners or pros. And if you'd like to improve your skills: Take a technique training course.
What do I need on my biking holiday?
Studded tires are recommended for biking in the Dolomites. Semi-slick tyres are only suitable to a limited extent for tackling the sometimes steep downhill and uphill sections. Fullies are to be used on hard trails. With us, the sun shines almost all the time, so from April to October a pair of biker shorts and a short-sleeved shirt are all you need. But you should not underestimate the high altitude and intense sun: Arm and leg warmers, sunscreen, and rain gear are definitely needed!